Air Services
General Aviation:
Mecklenburg – Brunswick Regional Airport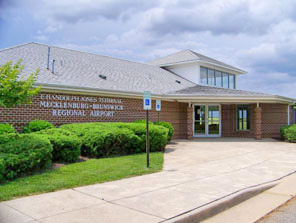 A publicly owned airport facility located near Brodnax. The airport services approximately 25 flights a day. 

Phone: 434-729-2591
www.avcairport.com
Airport features include:
Modern terminal building with free WiFi, free use of computers and Internet, pilot's snooze room, and catering upon request
5,000 x 75 foot paved runway with pilot controlled lighting
AWOS-4 on field
Localizer runway 1 GPS WAAS runway 1 and 19 with LPV approaches
24-hour low-price credit card fuel, self serve after hours (100 ll and Jet A fuels). Free overnight tie-down with fuel purchase.
Hotel shuttle service
Crew courtesy vehicle
Ground Communications Outlet (GCO) to DCA Center and Flight Service
T-Hangers available
Flight instruction and aircraft service available
Close to South Hill with numerous restaurants and hotels
Chase City Municipal Airport
Has a 3,400', 50' wide asphalt runway. It is open to the public and services approximately 40 planes a week. Most planes using the airport are single-engine.
Lake Country Regional Airport
Located just south of Clarksville and has a 4,500' x 50' runway. It is open to the public and services approximately 50 flights per month. Major upgrades are being planned for this airport in the near future.
Phone: 434-374-8028
www.airnav.com/airport/W63
Airport features include:
Aviation fuel
Aircraft parking (ramp or tiedown)
Rental cars
Courtesy transportation
Pilots lounge / snooze room
Computerized weather
Restrooms

Commercial Air Transportation:
Richmond International Airport
Located 84 miles from South Hill. It is serviced by 7 major carriers, each offering non-stop flights to major domestic destinations with connecting flights worldwide. Nearly 3 million passengers use Richmond International Airport each year. 
Raleigh-Durham International Airport
Located 55 miles from Clarksville and 74 miles from South Hill. It offers nonstop flights by 9 major carriers to 48 destinations. There are also two cargo carriers.