Trucking Mileage
Major Highways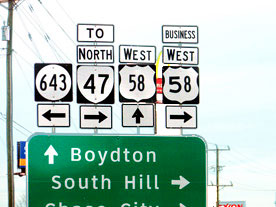 US Primary Routes 58 (east-west), 1 (north-south), and State Primary Routes 47 (east-west), and 49 (north-south), and Routes 15, 92, and 4 all serve to connect the County.
Parcel Service is provided by UPS and Federal Express
Bus Service is provided by Greyhound.
Shipping and Freight Services
Virginia Southern Railroad is operated by the North Carolina & Virginia Railroad, and is owned by RailAmerica, Inc. It provides shortline service to Chase City and Clarksville, and provides a connection to Norfolk Southern at Burkeville, Virginia.
For more information, see RailAmerica.com >
Freight Rail Service
Buckingham Branch Railroad is a family owned short line railroad in Central Virginia. It operates a line, owned by the Bryant family, which is 17.3 miles long and runs between Dillwyn and Bremo. This line is known as the Buckingham Division. The BB leases and operates a line of railroad from Richmond to Clifton Forge (via Charlottesville), which is approximately 200 miles long. This is known as the Richmond and Alleghany Division (R&A). And, the BB leases and operates the Virginia Southern Division, which runs from Burkeville to Clarksville via Keysville.
For more information, see BuckinghamBranch.com >