Community Profile
A comprehensive Mecklenburg County Community Profile is published quarterly by the Virginia Economic Development Partnership. The document contains extensive statistical, economic and demographic information about the county. Information from the Community Profile is referenced frequently throughout this site.
The entire document is available as a PDF. Simply click on the link below to download a copy.
Mecklenburg County Community Profile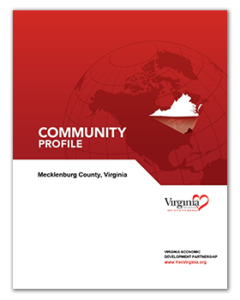 >
Contact us if you have any additional questions about Mecklenburg County.