Healthcare
Hospitals:
VCU Health Community Memorial Hospital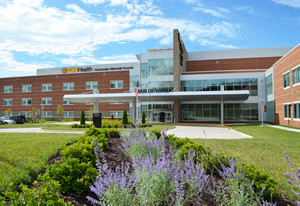 VCU Health Community Memorial Hospital's new facility opened its doors to the public on November 11, 2017. With the opening of the brand new state-of-the-art hospital also came the opening of the new Garland Birthing Center, where expecting moms could now deliver locally, which had not been available since 2012. The 166,700 sq. ft. technologically-advanced hospital features 70 private patient rooms, three operating room suites, a cesarean section suite, and a 16-bay emergency department. The new VCU Health CMH also has a permanent cardiac catheterization lab to provide the most advanced cardiac care in the region and a full complement of diagnostic services, including MRI, CT, nuclear medicine, cardiac, vascular and pulmonary studies.
On Tuesday, March 6, 2018, officials cut the ribbon for VCU Health Community Memorial Hospital's new C.A.R.E. Building. The name C.A.R.E. reflects the services offered in the new building: CMH Physician Services Clinics, Administration, Rehabilitation and Education.
The 67,000 square foot, C.A.R.E Building is located adjacent to the new hospital on the 74-acre campus and houses the following physician practices and hospital services:
CMH Cardiology Services
CMH Ear, Nose & Throat & Pulmonology
CMH Family Care Center
CMH Orthopedic Service
CMH Pain Management Services
CMH Surgical Services
CMH Urological Services
CMH Women's Health Services
Administration
Cardiac and Pulmonary Rehab
Education Center
Human Resources
Health Information Management
CMH Family Dental Clinic
VCU Health CMH also has off-site facilities, such as the Hendrick Cancer & Rehab Center, Chase City Primary Care Center and Clarksville Primary Care Center.
In 1954, Community Memorial Hospital opened its doors to serve the health care needs of the community. Now, as VCU Health Community Memorial Hospital, medical services will grow to greater heights and VCU Health CMH will continue to be a regional medical destination for all residents of Southside Virginia and Northern North Carolina.
Other Hospitals:
Sentara Halifax Regional Hospital:
South Boston, Virginia 

Visit Website >
Henrico Doctors' Hospital:
Richmond, Virginia
Visit Website >
VCU Medical Center (MCV):
Richmond, Virginia
Visit Website >
Duke University Hospital:
Durham, North Carolina 

Visit Website >