Lakes, Rivers & Parks
Mecklenburg County is known as Southern Virginia's Lake Country. As home to the largest lake in Virginia, it's easy to understand why. Overall, the county is home to three lakes and multiple rivers.
In partnership with neighboring Halifax County, Mecklenburg helped create the Southern Virginia Wild Blueway to introduce residents and visitors to the many miles of scenic rivers and lake shore in the two-county region. The waters represent one of our greatest natural assets. When people experience the unspoiled scenery of the Blueway, they are more inclined to treasure and protect it for future generations.
Buggs Island Lake

(Also known as John H. Kerr Reservoir)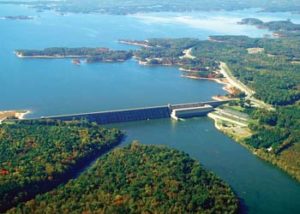 A 50,000-acre lake in with over 900 miles of shoreline, is the largest lake in Virginia and one of the most scenic in the south. Day use areas, 30 boat launches, and boat rentals are available, as are secluded lakefront properties. A fishing pier has been constructed to meet the needs of handicapped fishing enthusiasts. 

Phone: 434-738-6101

Visit Website >
Lake Gaston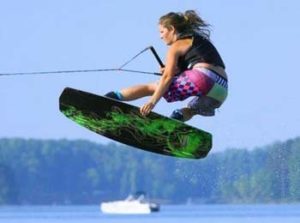 Lake Gaston is 34 miles long, and provides 20,300 acres of surface area with over 350 miles of shoreline. This beautiful lake offers ideal facilities for fishing, boating, swimming and other water sports. 

Phone: 252-425-4380 

Visit Website >
Occoneechee State Park

Located on a wooded peninsula of Buggs Island Lake, this park encompasses 2,690 acres and is a haven for anglers, vacation campers, and nature lovers. The park offers boat-launching facilities, nature trails, campsites, cabins, an equestrian campground, picnic shelters, an amphitheater, a playground, and exhibits on the history of the Occoneechee Indians. The park also features a 15-mile multipurpose trail for hiking, biking, and horseback riding.

Phone: 434-374-2210

Visit Website >
Virginia Department of Game & Inland Fisheries

VDGIF is responsible for the management of inland fisheries, wildlife, and recreational boating for the Commonwealth of Virginia. The Department has an operational budget of approximately $50.1 million and an employment level of 465 salaried staff. 

Phone: 804-367-1258

Visit Website >